The Parkland Walk is split into two sections. Parkland Walk North extends approximately 750m from Cranley Gardens to Muswell Hill and the southern section at just over 3km runs between Holmesdale Road in Highgate and Finsbury Park. Below, you will find instructions and a map to guide you from one section to the other. The distance between the two sections is 1.3–1.8km depending on which route you take, making a total distance for both sections in the region of 5km.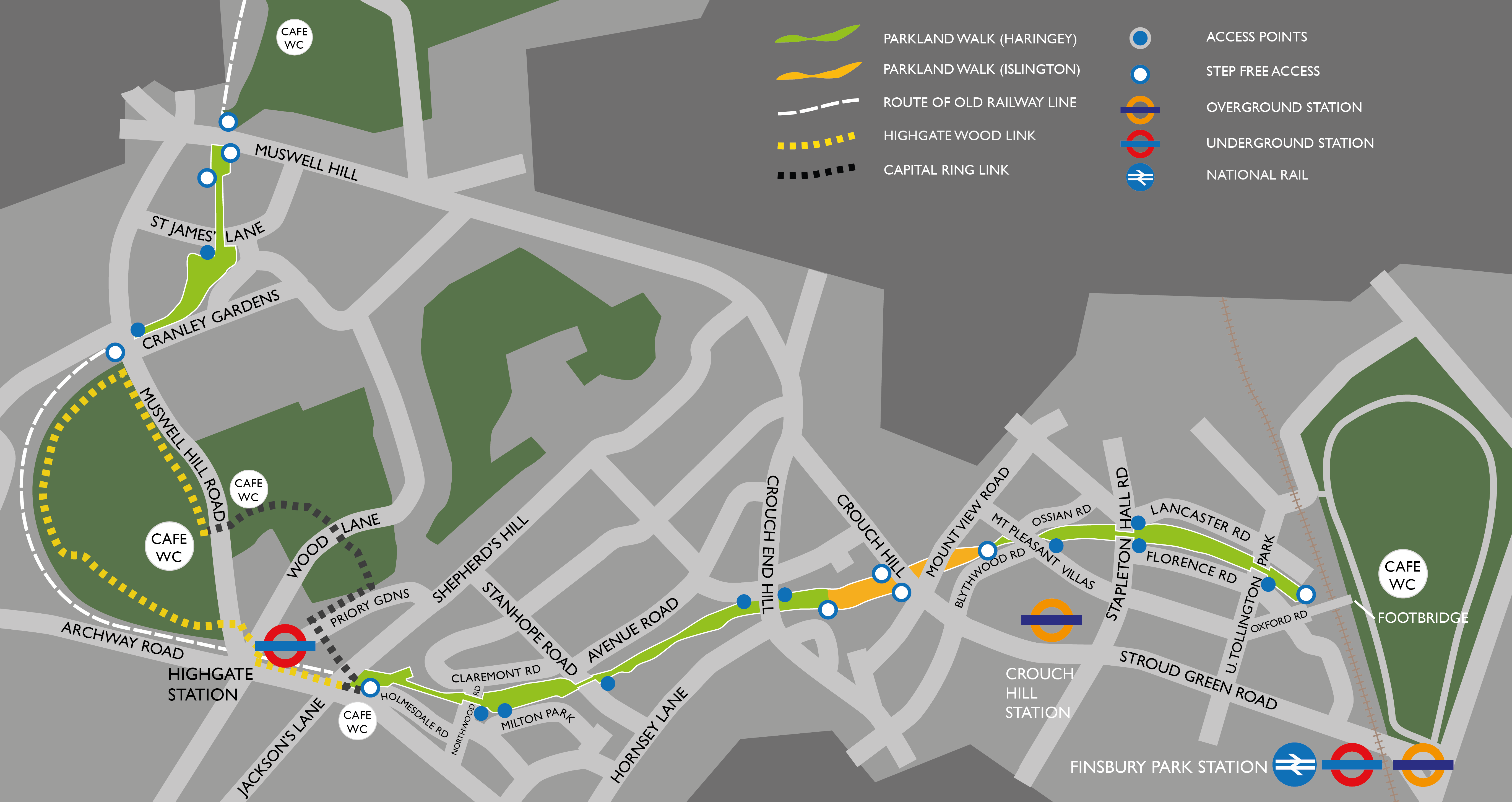 Mobility
Currently access onto, and along the walk, can be challenging for those with mobility issues. There is almost level access to Parkland Walk South at the Oxford Road entrance to Finsbury Park and at Blythwood Road, with a reasonably firm surface between. Some slopes leading up to bridges may be too steep for unpowered wheelchairs. There is a steep slope at the Holmesdale Road entrance in Highgate.  The Islington section has a surfaced access ramp from Crouch Hill although it is quite steep and the path runs across the face of an embankment with no side barrier. There is also a ramped access from Hillside Rise behind Ashmount School.
There are reasonably good access ramps at either end of the section in Muswell Hill and the path continues on into Alexandra Palace Park.
Other entrances are via steep steps up embankments or down cuttings.
The path surface is generally course and there are occasionally rough stones and small tree stumps protruding in places. The approaches to bridges are sometimes steep. After prolonged bouts of wet weather some parts of the path can get muddy with pools of water collecting.
Haringey Council has recently carried out an online consultation process with a view to addressing the access problems across the length of the Walk. Stakeholder groups will be invited to a series of meetings to fined an agreed way forward. If you would like to express a personal view, please email us at
Three options for getting between the two sections of Parkland Walk:
1 Pavement route: Walk from Holmesdale Road uphill, turn right at the Boogaloo pub, and along Archway Road to the Woodman pub. Turn right and follow Muswell Hill Road to Cranley Gardens.
2 Highgate Woods route: As above, but after turning right at The Woodman, cross over into Highgate Woods. Keep to the left to walk the perimeter of the wood to be as close as possible to the former railway line or bear right keeping Muswell Hill Road in sight on your right. Exit at Cranley Gate and turn left. There is an underpass under Muswell Hill Road that puts you on the start of the Muswell Hill section of the Walk.
3 Queens Wood and Highgate Woods (least amount of traffic): Look out for signs for the Capital Ring. Cross over the lights at Gonnerman's furniture shop. Turn right up Shepherds Hill and turn left down a narrow path by the library which drops you down onto Priory Gardens. Turn right, cross over, and walk up Priory Gardens looking out for a small alley on your left which leads into Queen's Wood. Follow the path and cross over Queen's Wood Road. The path drops and then climbs leading to the Queen's Wood cafe. Past the cafe leave the wood and cross Muswell Hill Road into Highgate Woods. Bear right to follow the path along the edge of the wood until you come to the Cranley Gate exit. Turn left out of Cranley Gate and take the ramp down to your left.
Refreshments and facilities
There are a number of places to stop en route for light meals and refreshments. There are cafes in Highgate, Queens Wood, Highgate Wood and at Finsbury Park. There are plenty of cafes and eateries on Archway Road and there is a cafe at the top of the steps at Crouch End Hill. Most cafes have toilet facilities for customers and there are toilets for the disabled near by the Finsbury Park cafe.  If you continue into Alexandra Palace Park you'll soon come across The Grove Cafe (open Thursday to Sunday but no toilets). There are toilet facilities at Alexandra Palace or the nearby Alexandra Palace Garden Centre.
Tubes, buses and overground
Parkland Walk South (Finsbury Park to Highgate)
Finsbury Park
Buses; 106, 210, 236, 253, 254, 259, W3, W7
Tube: Victoria and Piccadilly lines
National Rail: Services south to Kings Cross and the City and north to Cambridge and Stevenage
Highgate
Buses: 43, 134 and 263 (the 43 and 134 will take you from Highgate to Cranley Gardens, the start of Parkland Walk North)
Tube: Northern Line
Parkland Walk North (Muswell Hill)
Muswell Hill
Buses: 144, W7, 102, 43, 134
Muswell Hill Road, Cranley Gardens
Buses: 43, 134