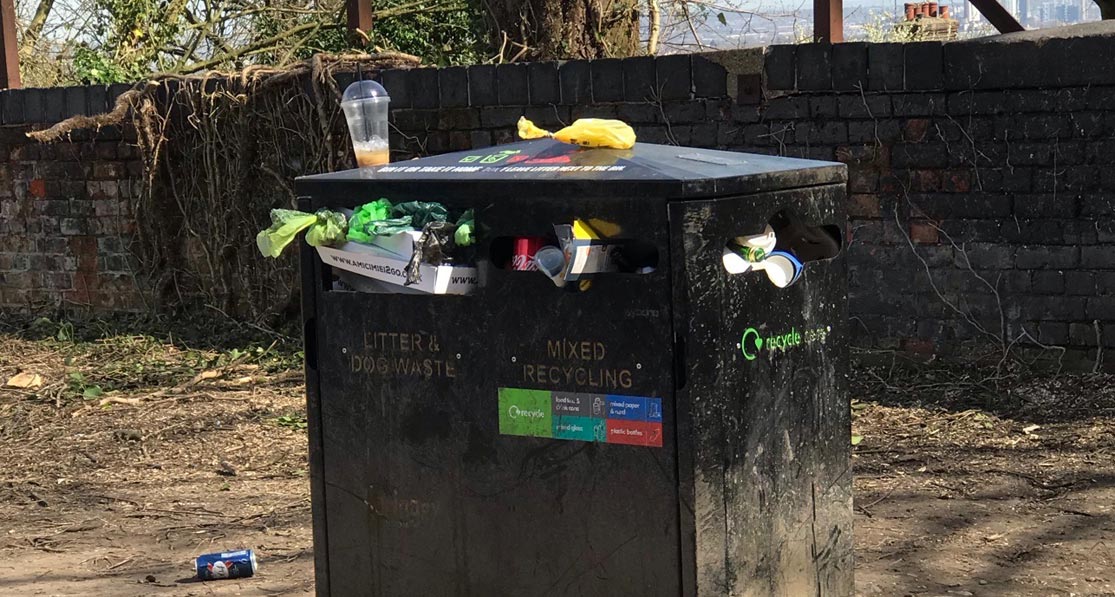 On the whole the Parkland Walk is kept fairly clear of litter. Occasionally it gets bad and we get requests to have more litter bins along the Parkland Walk. Foxes will often pull litter out of bins as they scavenge for food. Litter isn't always strewn around by humans.
Over time it has become clear to us that this is not a good solution. More bins attract more rubbish. People who might otherwise take litter home for disposal can be more inclined to use a bin if it is there. So the more bins we have, the more litter stays on site rather than being taken away. As we can only rely on the council to empty bins once a week it's important to keep the overall amount of litter down to ensure all bins are cleared.
More often than not, an overflowing bin is a result of the council being unable to get staff out due to sickness. If a bin does get bad, like the one above, it can be reported to the Parks department using the Love Clean Streets phone app or 'Report it' on the council website.
We can all make a difference. So if you see a bit of litter that's discarded, consider picking it up and popping it in a bin.
Become a 'Litter Marshal'
Some people who want to contribute towards keeping the nature reserve clear of litter have signed up to our litter marshal scheme. Litter marshals generally commit to carrying out a litter pick at least once a week. Some build litter picking in to their regular daily routine. If you wish to become a litter marshal please view our volunteering page and contact us so we can help you get set up with a litter picking tool, bags and gloves.